Committed to Quality Education
With a tradition of excellence, the Guntersville City Schools are among the top in Alabama in standardized test scores and above the state and national average on the ACT.
Students attend schools in excellent facilities with small class sizes, highly qualified teachers, and access to state of the art technology.
Students have access to a wide variety of courses with an emphasis on reading and mathematics in the elementary grades.  Middle school and high school students have many options for electives with opportunities for college credit in 11th and 12th grades.  Numerous extracurricular offerings exist in fine arts (art, choral, music and band) and athletics.
Vocational and technical education courses are taught at Guntersville High School. High School students may also take courses at the Marshall Technical School located in Guntersville.
Contacts:
Jason Barnett, Superintendent
256-582-3159
---
Julia Covington, Coordinator
256-582-0262
---
Grades K-2
John Doyle, Principal
256-582-3364
---
Grades 3-5
Julie Ann McCulley, Principal
256-582-3908
---
Grades 6-8
Vohn Enloe, Principal
256-582-5182
---
Grades 9-12
Roseanne Mabrey, Principal
256-582-2046
Higher Learning
Institutions of higher learning nearby include:  Snead State Community College, (15 miles away), University of Alabama Huntsville,  Alabama A&M University, and Gadsden State Community College (each 40 miles away).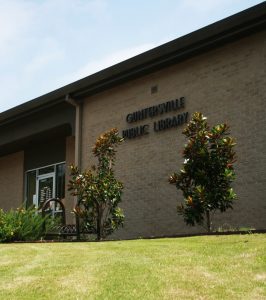 The Guntersville Public Library is located at 1240 O'Brig Avenue.  Librarian Mandy Broadhurst and staff provide a warm and welcoming atmosphere by creating a fun and dynamic environment to read and learn. The Library offers a full range of opportunities from books to electronic media to a foreign film series.  Library Hours are: Tuesday 9am-8pm, Wednesday 9am-6pm, Thursday 9am-8pm, Friday 9am-6pm, & Saturday, 9am-2pm.  Visit the Guntersville Public Library website www.guntersvillelibrary.org